Buying a Flipped House: Is It Right for You?
Flipped homes can provide you with a spiffed up house that's move-in ready or a lemon hiding behind freshly painted walls.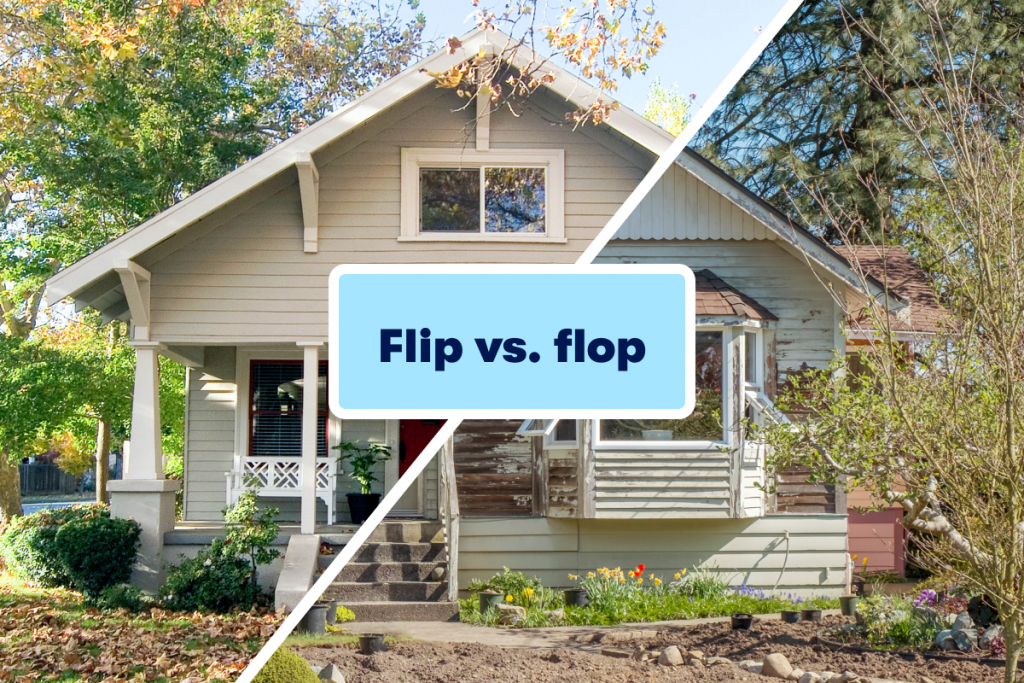 A flipper house is one that an investor buys for the purposes of fixing up and reselling for a quick profit. When buying a flipped house, you could be getting a home that's been extensively updated and requires little work. Or you could be buying a money pit that requires expensive repairs if the work is shoddy or the home has serious issues lurking beneath that new coat of paint.
Flippers done by professionals or even skilled DIYers can be a good deal for buyers who want to skip repairs or move into a home that's as maintenance-free as possible. And since the sellers are usually motivated, the home could be priced competitively.
The key is knowing what to look for — and who to look to for answers — so you can avoid problems and get credible answers to your questions about whether you should buy a flipped house.
Your real estate agent may have been involved in previous sales involving flippers and can help you weigh the pros and cons of buying one. Hiring a professional home inspector can also give you an accurate picture of the home's condition so you have a clear idea of what you're buying.
ere are some things to look for when buying a flipped house.
How to spot a flipped home
When shopping online
Your first clue to spotting a flipper is the sales history and how much it sold for previously. This is information you can find on most Zillow listings. If the house was recently sold and then listed for sale again after only a short time with a large price increase, chances are it's a flipper. Some experts say a six month window indicates a flipper; others say within a year.
Another clue is the ownership, which you can look up on your county assessor or treasurer's website. If the owner is a business or limited liability company (LLC), there's a good chance it's a flipper. You can also usually search property ownership by the owner's name. If the owner has previously sold multiple properties, that could indicate it's a flipper as well.
When touring a home
When touring a flipper, it's easy to get caught up in the swoon of a newly spruced up home. There could be new appliances, fresh paint inside and out, new floors and doors, and maybe even upgrades to heating, plumbing and electrical systems. Take a few minutes to indulge your senses and absorb the vibe of the house, and then get down to business.
Some obvious signs of trouble:
cracks in walls
sagging floors
discolored ceilings or walls
water stains in places like the kitchen, bath, garage or basement
These details could indicate larger problems. These include potential issues with the foundation, rotting wood, a decaying roof or recurring leaks (and subsequent water damage and mold).
Pay special attention to the plumbing, the heating and the electrical. These systems are the heart of the house, so it's important that they're in good shape. And if they're not in good shape, the costs are going to add up fast.
As you go through, keep track of your findings. They can help inform your decision on whether to hire a specialty inspector, inquire more about the extent of the work done and the people who did it, or shape your offer to include a contingency for passing inspection.
Important questions to ask about a flipped home
Did the seller get permits for work that requires it?
City and county building departments require permits for a host of things, including electrical, plumbing and structural work to ensure that safety codes are followed. Any work that falls along those lines should be accompanied by a permit on file with the city or county building or construction department that inspects the work.
Those permits are available for public viewing, and will often give an estimate of the value of the work. They will also show whether the work was approved by an inspector. The last part is important because people can get a permit without actually completing the work or getting it inspected.
If more extensive work was done and there is a short period of time between the previous sale and the resale, check to be sure the appropriate permits were filed.
Pay especially close attention to any structural changes in the house, like the removal of walls, which can affect the stability of the home.
Was the paint job competently performed?
Work that's strictly cosmetic doesn't require permitting, but it can cause major headaches if it's done incorrectly.
Take painting, which requires knowledge and skill to do correctly. Older homes often have oil-based paint on the walls and moldings. Slapping a layer of acrylic paint over it without properly preparing the surface can lead to peeling paint whenever something bumps into it. Having to remove paint from an improperly painted wall is a giant, messy and potentially costly headache that you should avoid.
If the exterior was painted, check the soundness of the underlying siding and trim. Paint can cover up rot to a degree. Don't be afraid to poke at the siding. Look for places where it might already be peeling or blistering due to excessive moisture. If the siding is wood, check to see whether the previous paint job was scraped and sanded before repainting. Otherwise there's a good chance you'll be looking at peeling paint in the near future.
Does the new plumbing leak?
Check new fixtures, vanities and sinks in the bath or kitchen to see if they're properly installed. Turn on the water and see what happens.
If the water pools in the sink rather than draining quickly, it could be installed off level. Look under sinks as the water is running to check for leaks. Touch the values and pipes to check for smaller leaks that might leave moisture. Even small leaks can cause significant damage over time.
Shiny new appliances and new countertops can blind you to a kitchen that is fundamentally dysfunctional. Do the cabinets and refrigerator door open in the correct direction? Does the layout allow for flow when you're cooking or entertaining? Are there enough cabinets for your needs?
Is the new tile aligned?
Tiling is a difficult skill to master, especially if you're working with different types of tiles and materials. Misaligned tile lines, sloppy grout and slivers of tiles at the end of a row indicate the work was done by an inexperienced person or someone who cut corners to get the work done quickly.
Determining that there is proper waterproofing under the tile is difficult because it's been covered up. That's why the overall picture is important: It can be an indicator of quality — or prompt you to ask more questions of the seller.
Is wiring sheathed and tucked away?
Loose and exposed wires are a safety hazard, and could be a sign of unpermitted work by an amateur. This is one of those signs that can inform your decision on whether to waive an inspection contingency. You don't want to be buying a home that needs to be rewired unless you're prepared to pay big bucks for it — or the overall price is discounted.
Are railings and other structural elements anchored properly?
Railings, cabinets, grab bars in bathrooms and even some appliances should be firmly and properly attached to a wood stud in the wall instead of just screwed into the drywall. Likewise for mirrors attached to hollow doors. They need to be anchored properly and not held in place by screws through the door's thin veneer.
Do the doors close smoothly?
Misaligned doors, those that scrape the carpet or floor beneath it or that don't close properly can also indicate work that was rushed along.
Fast flips and subpar work can affect your ability to get a mortgage
Pay attention to the timeline of the sale if, like many buyers, you'll be financing your purchase with a mortgage.
Federally backed loans obtained through the Federal Housing Administration or the Department of Veterans Affairs require a minimum number of days between sales. According to the rules, at least 90 days have to pass from the previous sale. The timeline doubles to 180 days if the value of the home since the previous sale doubles.
Lenders of conventional loans have their own timelines for what's allowed, so be sure to talk to your mortgage lender.
Subpar or unfinished work such as hanging wires can be flagged by an appraiser during the loan process. This can stop you from getting a mortgage if the lender doesn't want to take on the risk. So even if you're willing to look past the flaws, your lender might not.
The flip side? Flippers can represent a good deal
As with any home, as long as you know what you're getting, flippers can be a good deal. This is especially true in competitive markets. You have a seller who is likely motivated to make a sale, and a home that can be move-in ready, outfitted with the latest features and styles. If it's in a neighborhood where it's likely to appreciate, that can be an all-around win.
Buyers who are shopping in competitive markets, where waiving inspections and financing contingencies are common, might be worried about turning off the seller by asking probing questions. Your agent can help you shape the best offer while making sure you're protected from the kinds of issues that can turn the joy of ownership into a headache.